finalist of the 5th edition of MasterChef
---
Szymon Czerwiński

a finalist of the fifth edition of the popular culinary programme MasterChef Poland (TVN), who stole the jury and viewers' hearts with his recipes and dishes.
The owner of the CZERWIŃSKI brand

, producer and presenter of his own culinary programmes broadcasted on the Internet. A creator of culinary workshops and participant in top-notch cooking courses at the Parisian schools Le Cordon Bleu, Alain Ducasse, Hotel Ritz Paris. A cook, food-enthusiast, showman and, most of all, just a man who is curious about the world.
they trusted me
and many others...
cooperation
I offer a wide scope of services for your brand in the range of: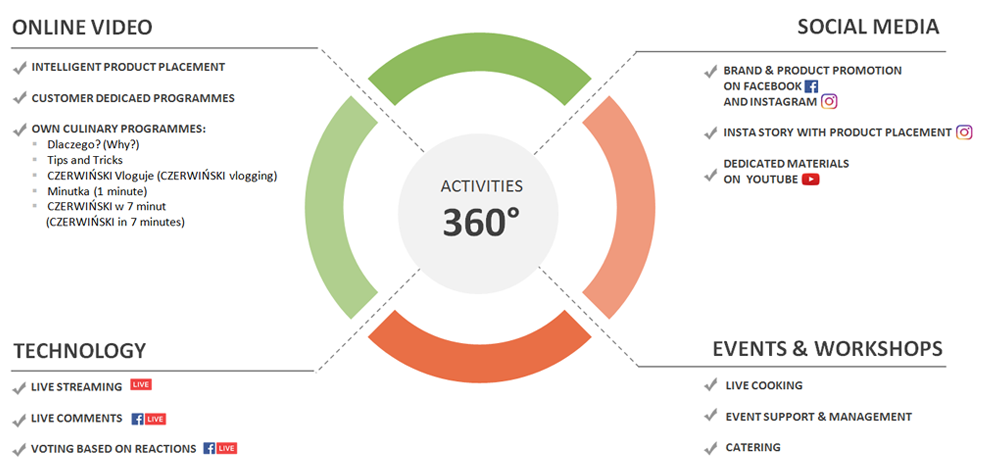 what distinguishes me?
1. Experience
I have many years of experience in running and producing culinary programmes.
2. Intelligent product placement
I place the advertised product on many levels. From culinary programmes to diverse activities on social media (Facebook and Instagram).
3. Technology
We produce programmes in Full HD quality. As one of the few in Poland we can, on request, run LIVE streams from multiple cameras, supported by dedicated software (reactions, comments, bars etc).
4. Events
Cooking and presenting events runs in my blood. I am a natural born cook and organiser of culinary-related events. Cooking for hundreds of people is just as important to me as preparing a workshop for a few. I love to cook and at the same time explain and tell what is going on inside the pot.
do you have a question or would you like to start a cooperation?please write to me on: kontakt@szymonczerwinski.com
culinary programmes
check the video formats I create
A modern life-style culinary programme that addresses basic culinary issues, titled 'Dlaczego?''('Why?'). During the episodes we'll deal with questions such as 'Why do we have a hangover?', 'Why to sweeten?', 'Why to season with salt?' etc., We'll be inviting guests from Polish show business, public figures as well as well-known youtubers.
Own creation in the field of 'life hacks'. Szymon Czerwiński over about 2 minutes in each episode shows how to make life easier in the kitchen. The workshop covers issues such as 'How to cut properly', 'How to make an ordinary egg become extraordinary' and many other practical examples and tips taken from daily life.
Culinary programme with the'table top' style camera positioning. Its recording is based on two camera takes: one camera placed above the table covering the worktop, and another camera placed at a 45-degree angle recording the detail. During the programme, the whole process of preparing a dish is illustrated and divided into individual stages. Each programme takes exactly 1 minute to facilitate distribution on social media channels.
Original culinary series in which Szymon shows step by step how to make a dish that he previously prepared together with a guest of the 'balkon 2na2' ('balcony 2x2') programme. Each episode lasts about 7 minutes. According to our research, this time frame is optimal for viewers interested in starting a culinary adventure in the comfort of their own home.
what they say about me
what people say about Szymon and what Szymon says about himself
Today in the Kitchen of 'Dzień Dobry TVN' ('Good Morning TVN'), we hosted Andrzej Polan and Szymon Czerwiński, one of the semi-finalists of MasterChef Poland. Szymon has just returned from some fascinating workshops at the prestigious Parisian school Le Cordon Bleu. What did he learn there? In our Kitchen, Andrzej and Szymon prepare Easter sweets, but not only. What about a 96-egg Panettone-style cake, a French Opéra cake or a New York cheesecake?

Today in the Kitchen of 'Pytanie na śniadanie' ('A question for breakfast') our guest was Szymon Czerwiński, a semi-finalist of the 5th edition of MasterChef Poland. Szymon will show us a few wonderful dishes you can conjure up in a few moments from a seasonal beauty which is rhubarb.

It will be rather crowded, but definitely cosy in today's episode. Tasty and of course not short of calories. And all this thanks to Szymon Czerwiński. He is an amateur cook with enough confidence to teach other amateurs to cook. He made a name for himself in one of the TV culinary programmes. He puts his whole heart into cooking. As well as into arranging his small, but not at all minimalistic flat in Warsaw.

Szymon Czerwiński, an amateur chef, shares his greatest passion with the listeners on air, and his passion, to say the least, it's infectious. As our guest says, nobody really is all fingers and thumbs in the kitchen, and you just have to keep trying, starting even from the simplest dishes, although - as it turns out - the preparation of a real pork chop with potatoes is not a 'piece of cake' at all!

Students from XII Maków Secondary School invited Szymon Czerwiński, a great cook, known for his participation in MasterChef Poland, and also a school's graduate. Thanks to him, a classroom for an hour was transformed into an alchemical laboratory where he created magical ice cream with liquid nitrogen, in clouds of steam.

A semi-finalist of the MasterChef Poland programme, the author of a popular culinary blog, and above all a fan of good, healthy cuisine, who enthuses everyone with his passion. How does he do it?

A semi-finalist of the culinary programme MasterChef Poland Szymon Czerwiński, thanks to the votes of the Internet users, on Saturday 2th December visited a children's home in Płońsk.

An interview with Szymon Czerwiński from behind the scenes of the 'balkon 2na2 od kuchni' ('balcony 2x2 through the kitchen door') - episode 9, with Eliza Gwiazda as a guest.

Talking to young people, Szymon Czerwiński advised them to never stop believing in pursuing their dreams. He told them to reject their fear and make their dreams come true so that they would not be afraid to do what they really want to and what really makes them tick - 'Dreams don't just come true, we make them come true! We can fulfill them if we really believe in them and in ourselves' - said the guest during the meeting.

In the 'Dzień Dobry TVN' (Good Morning TVN') Kitchen' we invited a semi-finalist of the 5th edition of MasterChef Poland, Szymon Czerwiński, who prepared a sprout salad with herbal dressing, duck breast in orange peel and Eton Mess. Bon Appetit!

He says that cooking is a journey of discovering new lands, and the greatest satisfaction for him will always be a guest's smile after finishing their meal. He claims that the kitchen can be a place of dreams and fulfillment. A graduate of the Warsaw University of Technology, a specialist in the car fleet management, who loves molecular cuisine. The creator of the first culinary LIVE programme on Facebook 'balkon 2na2 od kuchni' ('balcony 2x2 through the kitchen door') Szymon Czerwiński - an amateur chef and semi-finalist of the 5th edition of the MasterChef Poland show.

In the Kitchen of 'Dzień Dobry TVN' ('Good Morning TVN') Ania Starmach together with Szymon Czerwiński of MasterChef Poland prepared a dish of a very familiar taste to all of us – Polish-style pork burgers. How to make them neither raw on the inside nor charred on the outside?

Szymon Czerwiński, the host and creator of the 'balkon 2x2 od kuchni' ('balcony 2x2 through the kitchen door') programme, in an interview.

Preparing a meringue is a real culinary art! Check out the way Szymon Czerwiński does it! :)